Blog
Insights
Posted November 9th 2018
A growing opportunity: Finding the female angle in the gaming industry
In a world with almost unlimited choices for entertainment, from streaming on-demand shows to watching live sports, from gaming online to mobile apps, brands are constantly competing for our attention and screen time.
Nowhere is this competition more evident than in the gaming industry. Traditional gaming at one point in the past was limited to a console such as a Gameboy or PlayStation. Now, however, gaming can be as simple as a mobile app.
In such a competitive environment, how can brands get ahead? The simple truth is by understanding who their customers are, their passions, motivations and mindsets, so as to personalise the experience for every customer and talk to each in a manner that will resonate with them.
Social clustering
Enter social data – or, to be more precise, Starcount's unique method of 'social clustering'. We analyse the passions and likes of social media users and cluster them together into different segments based on similar passions, using our pioneering platform, The Observatory. This method is different to, and much more effective than, 'social listening' (if you would like to understand more about the differences and why social clustering works better, read our guide here).
We tapped into The Observatory to examine the gaming audience, looking at the characteristics of the fans of different games.
Where are the women?
One of the most striking factors that immediately appears is how much of the industry is dominated by men – 84.1%, to be exact, of the overall audience is male. For gaming brands, this presents a unique opportunity to try to tap into the female audience.
The evidence is stark: women are missing from the overall gaming community and therefore represent a huge opportunity.
If we examine individual games within the Observatory, we can see that FIFA, World of Warcraft (WoW) and Call of Duty (CoD) all have female audiences of 11%, 20% and 11% respectively. If we look at the brands behind how these games are played, the same scenario exists: The female audience for PlayStation and Xbox is 20% for each; for Nintendo it is 27%; and Steam, a computer game programme, has a mere 13% of women engaged.
The evidence is stark: women are missing from the overall gaming community and therefore represent a huge opportunity. The issue is trying to work out what most women would want in a game and how they would play it. For millions of men, the answer might be FIFA on an Xbox or World of Warcraft on a computer. But for many women it could be something entirely different.
Crushing candy
Another segment in this study is Candy Crush Saga, a mobile app game, where women make up 67% of the audience. Understanding how this audience differs from the audience of other games could provide the key to unlocking a huge proportion of the female gaming market.
The top passions for Candy Crush fans are Shopping, Fast Food & Treats, TV Talent Shows, Celebrity Gossip and Phones & Communication. The statistics of the gender divide for each console or game illustrate that consoles or PCs are more popular with men, while mobile apps, and therefore mobiles, are more popular with women.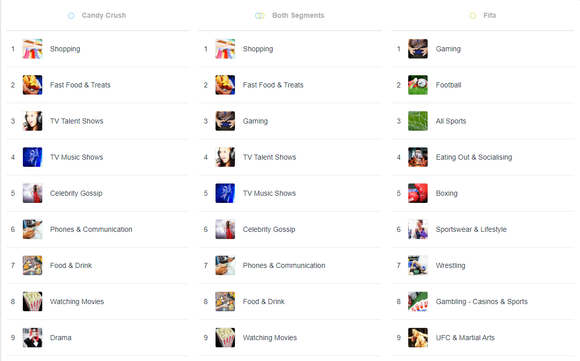 This finding is confirmed by the presence of Phones & Communication as a passion – one that doesn't appear in the top 10 for fans of FIFA. Meanwhile, the presence of Shopping supports the popularity of mobile app gaming, most of which operate by giving players the chance to purchase in-app credits and rewards.
Interestingly, while the top brands for the audiences of games like FIFA, Call of Duty and World of Warcraft reflect gaming brands, the top brands for the Candy Crush audience are distinctly lacking in them, instead being filled with shopping brands like Asda, Argos, Morrisons and Tesco, as well as food and snack brands like Cadbury, McDonalds and Pringles.
This is further evidence that a large proportion of women are not interested in intense gaming but are instead looking for some form of entertainment that allows them to shop, while on the move.
Again, if we look at media titles, similar insight emerges. While titles for FIFA, CoD and WoW reflect gaming passions, such as PC Gamer and Game Informer, those for Candy Crush have a greater focus on celebrity culture, such as Britain's Got Talent, Saturday Night Takeaway and I'm a Celebrity.
All of this insight should highlight to male-dominated gaming brands a need to increase investment in mobile app gaming, in order to tap into a large proportion of female gamers. However, that's not all that is going on here.
A growing audience
To illustrate the female gaming segment further, we can examine another example: The Sims, an interactive simulation game where players simulate a life, from birth till death. The audience for this game is overwhelmingly female, with 70%. Yet this is no app – The Sims is primarily played on a PC.
The opportunity to attract more women is one that every gaming brand, whether console or mobile, should be looking to.
The top passions for this audience are Science Fiction & Fantasy, Drama, Watching Movies, Beauty and Eating Out & Socialising. This reflects a slightly different female-dominated audience to that of Candy Crush, although the fastest growing passion for Sims fans is Fast Food & Treats, underlining this possible desire to be on the move, as was reflected in the Candy Crush audience.
The presence of Science Fiction & Fantasy and of Comic Books (as the second fastest growing passion) should appeal to the makers of World of Warcraft, a game that reflects similar passions, and underline that there is room for more women in these fringe passions, although perhaps not quite so fringe as WoW.
It is the top brands for Sims fans that showcases some valuable insight, however. Many of these top brands reflect Fast Food and take away brands like Starbucks, McDonalds and Cadbury. But it is their fastest growing brands within this audience that is most interesting: while the Body Shop is the second fastest growing brand, something that underlines that this is a female-dominated audience, the third fastest growing is Nintendo, while fifth is Xbox.
Winning over women
This perhaps reveals that recent developments by these two gaming consoles, which are heavily male dominated, might be helping to draw more women in. One major factor of The Sims is the ability to play as your choice of gender, and there is a growing trend towards integrating female playing roles into newer console games.
Many of the most recent allow you to unlock female characters which you can play as, while the latest Assassin's Creed game will offer the chance to play as a female character right from the beginning of the game. Certainly, allowing more female dominance within the game itself can only be a good thing in helping to draw more women in.
Winning over women has not proved easy in the past, but they certainly are an underrepresented segment in the gaming industry. This opportunity is one that every gaming brand, whether console or mobile, should be looking to, and it is insight like this that will help to them to achieve it. Whether it's investing in more on-the-go mobile games or developing console games that both reflect the passions of female gamers and showcase them in more prominent roles within those games, winning over women will almost certainly be the make or break factor for gaming brands everywhere.